An event poster collaboration between David Page and Brandon Mise
David Page of Beeherd Communications contacted me a while back about collaborating on some art-- I really loved
his work
, unfortunately most stuff I need artwork for is for people who can't afford it, i.e. musicians and art folk (we rarely charge a design fee for local musicians/events) so I felt bad for taking him up on his offer, until he reposted a similar request on the
letpress listserv
just recently.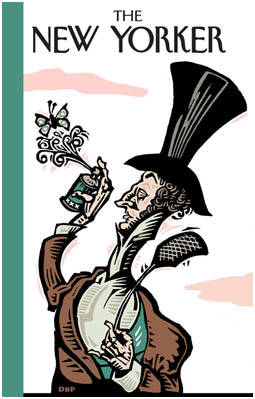 A pretty awesome cover for the New Yorker by David Page
BBH got its first gig for a theater production and I immediately thought of David-- he was very generous to devote his time to this project in exchange for prints alone. The poster image for Weldon Rising is the digital design-- we'll post the final product sometime next week.
One of the more interesting color separations I've seen in my days.